"Sharing Ramadhan" organized by the CIS Youth Wing
sponsored by
Islamic Union of Hongkong. August 2011
Alhamdulillah  the series of  "Sharing Ramadhan" -Ifthar's organised by the CIS Youth Wing –Dawah Outreach programme for Non Muslims students and academics were conducted at the following Universities with the collaboration of the All University Muslim Students' Association
19th  August      –  Muslim Majlis, Institute of Indigenous Medicine
22nd                  –  Muslim Majlis, University of Colombo
24th                  –  School of Social Work
26th                  –  University of Sri Jayawardenapura
26th                  –  University of Moratuwa – Civil Dept – Postgraduates students.
29th                  –   University of Peradeniya
Team Members :    CIS Youth Wing  :  Brothers  Kamal Nishaath, Dr Riyas Cassim, Fawazir , Sis'Shifka,  Rushda, Sarah,  Mahiya – CIS  Sis Noorah Nilanthi and   Brother Chandana,
The main feature of the Sharing Ramadhan – Ifthar programmes were to invite non muslims participation and convey the message of Islam.  Masha Allah we had  around 1000 participants both muslims and non muslim Around 500 non Muslims who participated enjoyed the joy of Ifthar while they learnt in depth about the social,  moral, significance   and about co-existence in Islam and observing fasting.  It also paved the way to building bridges among the non muslim youth and University academics.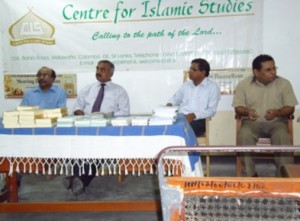 The first of the Sharing Ramadhan Ifthar programme was held at the Institute of Indigenous Medicine, University of Colombo (Ayurveda and Unani Medical College)   There were around 180 participants of which 65 were non Muslims.  The Director  Dr. R. A. Jayasinghe and some of the Faculty Members participated in the programme and was very impressed with the presentations by Mou Irshad on Social Aspects of Fasting and Brother Fawazir on Spritirual values in comparison to Islam and Buddhism.  Infact the Director commented that this was a good opportunity for  the students to interact and get to know each other much better as he said that there is a language barrier amongst the Unani and Ayurveda student and they hardly  other.
 He commended the programme and said that this was the 2nd Ifthar in the College he was participating.  He expressed his thanks to CIS for organising the IFTHAR and also for the informative talks.  Brothers Dr Riyas,  Chandana and Fawazir, Sis'  Noorah, Shifka and myself represented the CIS/YW.

The highlight of this programme was we had limited Quran translations and physically even before we distributed the Director and others picked it up from the desk to read it.  While there were requests for more.

22nd August organised with the Muslim Majlis, University of Colombo – There were 330 participants and around 100  non Muslim students and lecturers  The Chief attendees were the Vice Chancellor Professor Kshanika Hirimburegama, Deans of the Agriculture and Law Faculties, Snr Students Councellor, Registrar, Snr Lecturers and others. 

Speakers :  English  Hafiz Ehsan Patel spoke on the Creation and the Revelation of the Quran

The speech is on You tube :
Mou Irshad (Sinhala)  spoke on the Taqwa and significance of Fasting.
The questionnaire circulated among the non muslim students had pertinent questions posed in relating to women and oppression, rules etc.-: 
Bro Furkan and Sis Mahiya and YW members Brothers Inthikab, Fawazir, Sis.Noorah,  Rushda, Sarah and Shifka participated  Bro Abdullah was one of the speakers but he declined as he was unwell.

24th August
orgniased together with Muslim Majlis,  Bachelor of Social Work, Sri Lanka School of Social Work :  100 participants with 50 non Muslims.
Speakers :   Brother Azad Zaheed –  Character of a Muslim – Building relationship with other religions.    Mou Irshad –  Moral values and Significance of Fasting.
The Director School of Social Work  Mr Amarawansa Ranaweera commended on the key topic Character of a Muslim and Building relations with other Religions was very relevant to the SSW model of teaching. He also said that it was a  very inspiring and it was tailor made for the occasion. The Director General Mr Alam too was very impressed. The students Majlis have  expressed their appreciation and thanks for the speaker. Ms Marijkse from Netherlands,  Lecturer  was so taken up and said that this is the Islam she wanted to know and also said she was waiting to read the Quran that was given to her. 

CIS Members:  Dr Riyas Cassim, Bro Nishaath,  Sis Noorah and Mahiya particpated
26th August
at University of Sri Jayawardenapura – Muslim Majlis 
200  participants with around 50 non muslims

Speakers :  Brother Dahlan – Speech was Ramadhan and Co-Existence .  It was a big impact the VC  Dr. N. L. A. Karunaratne ,  Professor Mohan De Silva,  Dean of the Medical Science
 and Senior Councellor were the key guests.  The VC made a very special speech welcoming us with "Assalamu Alaikum" and related a lot on the co existence of the students of all faiths which has enhanced with programmes of this nature. Our second speaker Mou Kaleel could not make it as he had met with a small accident.
Dr Karunaratne was highly impressed with Bro Dahlan's presentation also Professor Mohan de Silva said he always admired the muslims fast and expressed the health values with goes with fasting.
26th August
:  University of Moratuwa – Dept of Civil Engineering – Postgraduate Students
53 participants with 50 non muslims – distribution of books were on request –  Here we were restricted from putting up any banners
Speaker :  Dr Malhardeen – Social and significance of Fasting.
former Dean of Engineering Faculty  Prof Asoka Perera  was the guest of honour The  guests were mostly CEOs of various corporate sectors following the postgraduate course in Civil Engineering .
29th August  University of Peradeniya on for 200  participants. There were around 100 non muslims
Speaker  – Brother Dahlan  Speech on  Social Values and Co-existence
No display of banners but distribution of dawah books among 20 participants.

One of the highlights of the Peradeniya Programme was the Brother Dahlan made a very special presentation to a group of 15 Tourists from US residents from different countries who were visiting the Campus Masjid.

We take this opportunity to express our very sincere thanks to Sis Noorah who burdened herself with the transport of the dawah books up and down and carrying  the box loads of books to and fro.
We wish to convey our very special thanks to the Islamic Union of Hongkong for making it possible to host the above Ifthars with their very generous donation.  May Allah Bless them in abundance and guide them in all their efforts .
The idea of fthar Programme for the Universities was given to us by Brother Zuhair, who always stood by the efforts of the Youth Wing and helped us immensely in all our programmes– a special word of thanks to him for all his support to make this programme a reality and also to our Treasurer Bro Faarih Fousz and Chairman, Bro Liyawdeen for all the support to help the programme go off the ground.
May Allah  SWT guidance and blessing be with all and may HE accept our duas and deeds for the benefit of our Umma.