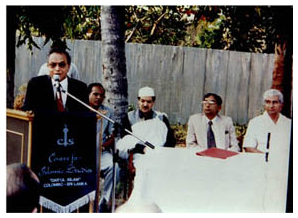 "Oh my Lord advance me in knowledge" – this motto of Amal International School speaks volumes of what Amal stands for. In 1991 Sri Lanka witnessed  a renaissance in the field of Education. The ever-increasing challenges created by the impact of global communications and new modes of learning highlighted the pressing need for a positive and dynamic approach to the human quest for knowledge. The facilities for the Sri Lankan students by introducing the English Medium for the General Certificate of Education Ordinary Level and Advanced Level are indeed praiseworthy. It was founded in recognition of the need for the provision of a broad system of educational excellence, one that would meet the demands of parents who could not afford to send their sons abroad to study English, instead wanted their sons to enter the new millennium equipped with the necessary skills and moral qualities to prepare them for their future.
Amal, the pioneer of English Medium Education for the local syllabus has gained popularity not only among the Muslims of Colombo and its suburbs but also among others as well. It is fast becoming a multinational school, where moral excellence is the primary objective and where the complete personal development of students is paramount. Very soon religious teachings of the other denominations too will be introduced.
Amal International stands majestically on a piece of land, comprising of 40 classrooms, well equipped science laboratories, a library, a gymnasium, and a fully equipped modern Basket Ball court complete with flod lighting facilities and a changing room for both ladies and gents. The fully equipped up-to-date computer room helps students to enter for the London O/L exams too. Students from pre-grade upwards are taught computer technology. The emphasis at Amal is on providing a first class education in a secure environment where the individual student's development is regularly monitored and assessed. The comprehensive curriculum thoroughly prepares our students for further higher education. Amal produces young men with leadership qualities and the ability to contribute, as responsible citizens to the well being of the pluralistic society.

Amal International, the pioneer of English Medium Education in the local curriculum can boast of the fact that we are the very first to translate all Sinhala and Tamil medium text books of all subjects into English and made them available for others to follow. We take pride in ourselves that we showed Sri Lankans the way to a better education in the English Medium.