Ibtihaj Muhammad is the first practicing Muslim to represent the U.S. in women's fencing. She's ranked second in the U.S. and 11th in the world. Ibtihaj stands out because she wears her hijab headscarf that is worn by Muslim women.
Ibtihaj Muhammad jogs lightly across the second floor gym at the Manhattan Fencing Center in New York. She's warming up, eager to get some work in.
Ready! Fence!
Fencers are already on the strip, a narrow fighting lane, and they're going at it, the air filled with little razor-like hisses and whispers. Many are Olympic hopefuls, like her, preparing for the World Championships Saturday in Italy. The competition is another chance for Muhammad to earn qualifying points in her quest to make the 2012 London Olympics in July.
"I don't think I ever wanted anything so much," said Muhammad, 25, of Maplewood. "I just want to make sure I'm doing everything I can to make this Olympics."
When it's her turn to spar, she slips the fencing mask over her hijab, the headscarf Muslim women wear. In a room full of fencers, it's the one thing that makes her stand out. If she makes the Olympics, she'll stand out even more. Fencing officials believe Muhammad is likely to be the first American Muslim woman wearing a hijab to compete at the games. The United States Olympic Committee doesn't track athletes by religion, but the demographic is something Muhammad thinks about, knowing what an accomplishment it would be since few Muslim women compete in sports.
"I didn't have female Muslim role models to look up to in the athletic world," she said. "It's really important for people to know my story. I think it's something I have to do, because I want Muslim female youth to believe they can do something like this."
Muhammad is ranked number two in the United States and 13th in the world in women's sabre, a fencing style in which strikes are made above the waist with any part of the weapon. Locally, she represents the Peter Westbrook Foundation in New York City, training at the Fencers Club on West 28th Street, where she is coached by Akhnaten Spencer-El, a 2000 Olympic fencer. Under him, she's a tactical, cerebral fighter who caught the fencing world off guard in 2009.
She won the U.S. national title that year, cracking the top 16 world rankings. Last year, she won a bronze medal at the Pan American Championships and a coveted spot on the U.S. women's national team.
"She's still young in the game and she's only going to get better," Spencer-El said.
Back to the strip. She goes against a member of the U.S. men's national team, then her teammate, Dagmara Wozniak of Avenel. You can hear the constant ping of saber blades colliding. Everyone has cat-like footwork that is lickety-split quick, calculating and aggressive. They duel back and forth trying to outsmart each other, snapping their weapons at the wrist to score. The long electrical wires attached to the edge of their fencing jackets register hits. All of them look like puppets dancing on a string, lunging toward each other and their their shot at gold.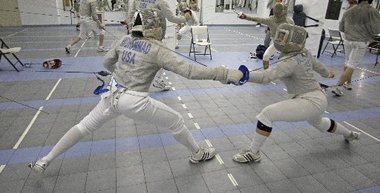 Ibtihaj Muhammad, left, and Damara Wozniak, of Avenel, face off during practice match in New York.
Getting to Italy isn't easy. Each country is allowed two spots for women's sabre and Muhammad and her teammates are the top four fencers in the U.S. The best of them is two-time Olympian Mariel Zagunis of Oregon, and she's number one in the world.
Muhammad is unfazed. She trains daily, except for Sunday, running in the morning before conditioning at a women's gym. In the evening, she's in New York City fencing for four hours.
"I just keep going," she said. "I don't want to get to a competition and lose a bout, because I didn't work out that extra hour."
You can see she's super-competitive, hating to lose, constantly critiquing herself. She's all business for this once in lifetime shot, but Muhammad does pause for what's important.
The third of five siblings in an athletic family, Muhammad finds strength in her faith. In August, she stayed focused through Ramadan, the annual Islamic month of fasting during the day. But Muhammad wants no sympathy, saying her sacrifices are not unlike anybody else's. She kept hyrdrated, waking up every 90 minutes at night to eat and drink. If she makes the team, Muhammad will be used to the regimen since Ramadan next year falls during the Olympic competition.
It doesn't matter at this point. Muhammad has come a long way in a career that started when she was a high school freshman. She stumbled on the sport driving past Columbia High School with her mother, who could see the team practicing through the large cafeteria windows. Inayah Muhammad didn't know what they were doing but thought her daughter should try it because the uniform would cover her body and that was suitable to Islam's tenet of modesty for women.
"I had know idea it (fencing) would take us this far,'' said her mom, a Newark schoolteacher. "She's so in love with the sport. I don't think she really understands how good she is.''
Muhummad was an epee fencer with Columbia until her former coach, Frank Mustilli, saw she was a better fit for sabre's combative vein. At practice one day, Mustilli said his mild mannered athlete got upset after she got hit hard and lashed out.
"She showed me a little bit of fire. She screamed and attacked,'' said Mustilli, head of the New Jersey Fencing Alliance.
At Columbia, Muhammad also played softball and volleyball but was captain of two state championship fencing teams before going to Duke University. She became a three-time NCAA All-American, earning dual degrees in International Relations and African-American studies with a minor in Arabic.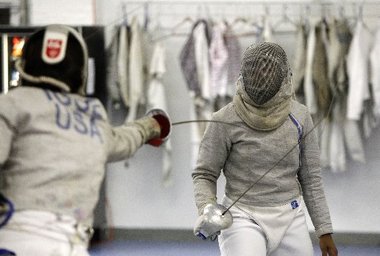 Ibtihaj Muhammad is seen during a September practice in New York.
After graduation in 2007, her father, Shamsiddin Muhammad, said his daughter's passion for fencing did not wane. The family supports her financially and she chipped in what she could last year as a substitute teacher at Shabazz High School in Newark and fencing coach at Columbia.
"I know this is her dream and inspiration,'' said her dad, a retired Newark cop. "We believe that what is written is going to happen.''
That belief helps her deal with distractions on this journey. At times she's wondered if her race or religion played a role in a judge scoring unfairly. When traveling, she has been treated as a foreigner who can't speak English, and worse, she feels the stares that say terrorist.
In Belgium this year, security officials told her to leave the airport unless she removed her hijab. Muhammad would not. Her mother interceded and there was a compromise to have her head patted down. Muhammad said it's frustrating making others comfortable, but she's not going to let "closeted views" derail her purpose.
"If God wants me to succeed, no one can take it from me,'' she said. "That's the way I approach it and I think that's what keeps me sane and grounded in this sport.''
Original post: Carter: Maplewood woman could be first American Muslim to wear hijab while competing at Olympics