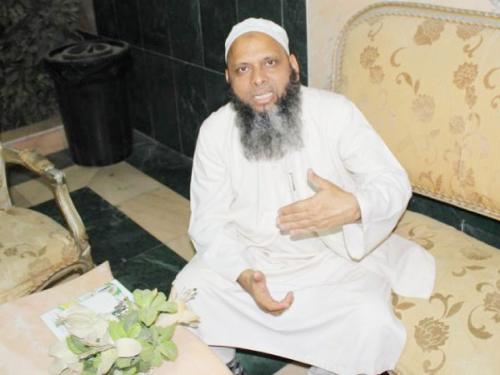 By: Hassan Cheruppa
Jeddah – A well-known Indian scholar and preacher said Islam's exquisite beauty and infinite compassion were the main factors behind his reversion to Islam 30 years ago.
Muhammad Umar Gautam, chairman of the Delhi-based Islamic Dawah Center (IDC), says it is high time to exert great efforts to disseminate this sublime nature of Islam at a time when the image of the religion which preaches peace is tarnished by its own followers, as well as by deviant groups. Gautam, who hails from Fatehpur district of the northern Indian state of Uttar Pradesh, said that Islam is not a religion for Muslims alone but to the entire mankind. "It is our duty to enlighten followers of other religions on the noble teachings of Islam, which are based on moderation, tolerance, compassion and peaceful coexistence. Since the very first day of embracing Islam in 1984, I have embarked on this great mission and it had electrifying impact on attracting hundreds of people to the fold of Islam as well as to enlighten hundreds of thousands members of India's 1.2 billion pluralist society to have proper understanding of Islam and remove misgivings about the divine religion," he said.
Shyam Pratap Singh Gautam was born in an affluent Rajput Thakur family, and is a distant relative of former Indian prime minister V.P. Singh. Gautam, who adopted the name Muhammad Umar after embracing Islam, said that the best propagation of Islam is strict observance of its teachings by its followers. "What fascinated me to Islam is the spirit of empathy and compassion that energizes its followers to help fellow human beings. In my case, it was one Nasir Khan, from Bijanor district of UP, whose exemplary work as a Muslim fascinated me."
Few years before embracing Islam, Gautam started thinking about foolishness of worshipping many gods and goddesses. "In my family there were 25 members and everybody had his own gods and goddesses and their own beliefs. So I was so much confused, and hence I was in pursuit of truth and it was a great blessing from Almighty Allah that guided me to His true path."
He continued: After completing B.Sc. degree in agricultural science from Pant Nagar University of Allahabd, I joined M.Sc. course in the same subject. My conversion was at the age of 20 while I was in the final year of my post-graduation. At the university hostel, Nasir Khan was my neighbor. During those days, I had sustained injuries in an accident and every day I had to go to hospital for dressing and I needed someone to help me. In the university, I had not any relatives or family members but Khan started helping me. I was so impressed by his selfless, sincere and dedicated service. I started thinking: Khan was neither my friend, relative nor even from my native place. Our religion was also different. There were many Hindu friends even from Thakur family but none of them came to help me. After one month, I asked him what prompted him to help me in such a way. Khan said: "Gautam Sahab, I am a Muslim and my religion is Islam, which teaches us to have good neighborliness and show compassion to all others. A Muslim has to fulfill several rights to his neighbor, and I shall be accountable in front of God if I failed to serve one who is in distress."
I was so fascinated and was curious to know more about Islam. On my request, he gave me so many books on a variety of topics. When I read these books, I came to the conclusion that Islam is not the religion for Muslims only but for the entire humankind. I was very much satisfied and asked for a translation of Qur'an in Hindi with interpretation. It took about six months for me to study the Holy Qur'an. After one year, I expressed my desire to become a Muslim. But Khan apparently not encouraged me, saying: "You think over again and again and be sure that you really wanted to become a Muslim. When you are decided, there won't be any going back. You take final decision after thinking hundred times." I told him that I wanted to go to Paradise and it is my personal decision and nobody can change it.
 This was the starting point, and there was much ado about this at the university and the community as well but all of them proved soon a "tempest in a teapot." A Delhi based newspaper's local edition published front-page story on my conversion with the headline "Gautam Umar Huwe (Gautam became Umar). It was the burning news for the entire locality. Many of my friends as well as college students and teachers came to me to inquire about it. I told them that it was a firm decision after understanding thoroughly about Islam and I invited them to learn about Islam and Qur'an. I told them you had misunderstood Islam because of Muslims. The university's monthly wall magazine published my interview about conversion.
Gautam said: From the first day of embracing Islam, I started Dawa work which is continuing for over 30 years without any break. Some RSS and Bajrang Dal people had strong objections and they started trying to convince me to return to Hinduism. When they told Hinduism is the oldest religion, I explained to them that Islam is the oldest religion and the very first man Adam himself was a Muslim. When the news spread, my family members reached Allahabad to verify the report. I explained to them my decision. They inquired me if there were any worldly gains behind it, to which I said an emphatic 'No.' Eventually my family boycotted me for nearly 12 years.
My father, who was a landlord and government officer, said it was a great dishonor to the entire Rajput family. During that day, I was the only Muslim in the village and no adhan (call to prayer) and prayer was performed there. They boycotted me socially and financially, but eventually, after several years they started receiving me and it was only because of my good manners in accordance with the teachings of Islam. Referring to the personal life, Gautam said: Before coming into the fold of Islam, I was engaged to a girl and our marriage was fixed. But it got delayed. After six years, my fiancee also embraced Islam and adopted a new name, Rasiya.
The couple has two sons and a daughter. After 13 years of his conversion, mother Santhi Singh also embraced Islam. Gautam keeps good relations with a majority of family members excluding father-in-law, who was never ready to see him or allowed to visit his house. Living in Jamia Nagar in Delhi's Okhla area for 20 years, he recalls that he could not finish M.Sc. because of a host of problems, and had to migrate to Delhi where he joined Jamia Millia Islamia and did MA in Islamic studies, and it was a U-Turn from agriculture to Islamic studies. After doing PhD, he worked as lecturer of Islamic studies at Jamia for three years and then was with Hamdard University for one year.
 In 94, he joined Markaz Al-Maarif Education and Research Center in Assam where he worked for 16 years. It was established by Maulana Badruddin Ajmal Al-Qasmi, who is a member of parliament and chairman of All India United Democratic Front. Al-Qasmi is the chairman of the center and Gautam was director of the education department. Al-Qasmi invited him to Assam to establish educational institutions in Hojai in Nagaon district.
 Since 2010, Gautam has been working from Delhi and established IDC in 2011. "IDC mainly concentrated in Dawa work among non-Muslims and disseminating the message of Islam's love for humanity. We help neo-Muslims with proper education. We adopt them as brothers and sisters and help them morally, legally and socially, and enabling them to have social adoptability."
 There are more than 500 converts associated with the center. "We focus on four-pronged strategy to rehabilitate the converts. First of all, we go to local magistrate to complete legal procedures, and then Qadi to obtain religious conversion certificate, besides publishing classified advertisements in newspapers for change of name and then gazette the notification," he said and added: "Our priority is to rehabilitate them. We have full-fledged multistory building for the center where they live and receive training so as to enable them to take up jobs and work in the society. The center is basically meant for the converts and for their education and rehabilitation. We hold full time Dawa training for scholars to equip them for Dawa work, in addition to conducting interfaith dialogue and supporting weaker sections, especially widows and divorcees," he added.