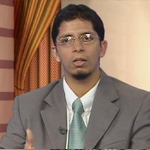 Qari Imran Khan's journey began when he used to visit Makkah and Madinah with his parents while still a young boy, listening and marveling at the beauty of the Muaddhin and Qurra who would lead Salah in the Haramain.
While still in Jeddah, his love for Qur'anic recitation led him to pursue his studying with various Imams, reciters, and scholars one of whom was Sheikh Ali Jaber, Imam of Makkah, may Allah have mercy on him.
After finishing his high school Qari Imran moved to Halifax, Canada in 1995 to pursue further education. He took a diploma in Electronic Engineering and received a B.tech from Memorial University of Newfoundland.
In his quest to influence and inspire others he studied under Sheikh Anmar Nassir who taught him the intricate details of Tajweed, the Art of recitation of Qur'an. Later, he received a verbal certification to teach Tajweed throughout the world.
While on visit to Saudi Arabia he met Sheikh Anmar who took him to meet his Sheikh whose chain of reciters goes all the way back to Prophet Muhammad S.A.W. He got the honor of receiving Azan certification from Sheikh Abdul Rahman Abdul Aziz Ayoon As Soud, son of Sheikh Abdul Azeez Ayoon As Soud.
He has given Azan and Tajweed seminars across the world namely, US, Canada, Europe, Middle East, and India. He has delivered Azan seminars more than fifty times and delivered more than 90 workshops on Tajweed so far.
His Tajweed workshop uses modern researched method to help anyone learn Tajweed rules in a very practical, and an effective way. His Tajweed program has been featured on Sharjah TV that was broadcasted over 45 countries.
He has also recorded his recitation on Peace TV Urdu in Understand Qur'an program Urdu version in August 2008 – Please type: Aao Qur'an Samjhein with Dr. Abdul Azeez Abdul Raheem and Let's Understand Qur'an Peace TV English.
Please feel free to type Qari Imran Khan in google search engine and youtube to see some of the audio and video samples.
Qari Imran Khan had the honor of learning with Dr. Jamal Badawi that turned him into an accomplished speaker who has spoken on numerous topics and uses wisdom in relating his message through Qur'an and Sunnah. His lecture circuit has made various stops in United States, Canada, UK, Middle East, and India.
His Art of recitation of Qur'an and Azan lecture has made him a sought for speaker that highlights the importance of recitation of Qur'an, understanding of the Qur'an, Azan and how we can use that as a tool of Dawah.
Currently he is working as an instructor with Al Khaleej Training Institute for Technical Mathematics and English courses for their academy.
Some of the topics he has spoken on are as follows:
1. Purpose of creation
2. Importance of Reading the Qur'an
3. Empowering our lives with Qur'an
4. Taking gems from Qur'an
5. Character of a Muslim youth
6. Giving in the way of Allah S.W.T
7. Best nation evolved for mankind
8. Tazkiyatun Nafs(Purification of soul)
9. Levels of human being – Muslim, Mu'min, & Muhsin
10. What role does Salah (prayer) play in your life?
11. How can we get closer to Allah S.W.T by studying the Qur'an
12. Rights of Qur'an upon us
13. Pillars of Islam – what are the practical implications for the youth & community, etc.
14. Character of our beloved Prophet S.A.W and how we can take lessons from his life.
15. The more you thank, the more Allah gives you!
16. Power of Dua
17. Yaumul Hashr-(Day of Judgement)
18. Yaumul Hashr-(Day of Judgement)
19. Jannah (Paradise)
20. Jahannem(Hell fire)
21. Birrul Walidain(Kindness to parents)
22. Family Values in Islam
For a couple of Saturdays Qari Imran Khan broadcasted LIVE program of Tajweed that was displayed on Islamic Network TV and watched by many people around the world.
He has visited the following places for lectures and tours:
1. Makkah, Madinah, Jeddah, Riyadh, Dhahran, Saudi Arabia (lectured for several years in Indo-Pakistani community gatherings)
2. Hyderabad, Bombay, Aurangabad, Nanded, India (lecturer & reciter)
3. Toronto, Canada (lectures at Islamic foundation, Jami Masjid, and reciter and Imam for ISNA annual convention 2003& 2004).
4. Halifax, Canada (regular Khateeb after Sheikh Jamal Badawi)
5. Chicago, USA (reciter and Imam annual ISNA and speaker for the youth 2003)
6. Dallas, USA (Gave a lecture in 1997).
7. Kansas City, MO, (reciter regional ISNA conference 2003) US.
8. San Jose, CA (Teacher with Darul Qur'an 2001-2002) US.
9. Tucson & Phoenix (Teacher, & reciter), US.
10. San Francisco (Imam for Taraweeh), US.
In Sri Lanka –
"Art of Recitation of Qur'an & Azan" – At Bagatalle Mosque, Colombo.
"How to recite the Quran/ Tajweed Workshop Crash Course" -At CIS.
Special Lecture for Muslims on an Islamic Perspective – At Amal International School.
Seminar on Azan – At Dehiwela Mosque