Mr. Khaled Salem Al Mohammed, Director in charge of Financial Resources, Public Relations and Media at Discover Islam, Bahrain, visited SL for the first time on the 01st of January, 2013.
Mr. Khaled Salem Al Mohammed visit was coordinated by Br. Zuhair and Br. Malik Ilyas in Bahrain. His visit was short but left with us a wealth of information to enhance Muslim Organisations. Br. Ilyas, Vice President arranged a meeting with Mr. Alavi Moulana, Governor, Western Provincial Council. Mr. Khaled Salem Al Mohammed was very much pleased and emphasised that we should maintain such contacts with influential people in the Island and further stated that in Sri Lanka Muslims have all the resources that only needed to be tapped the right way.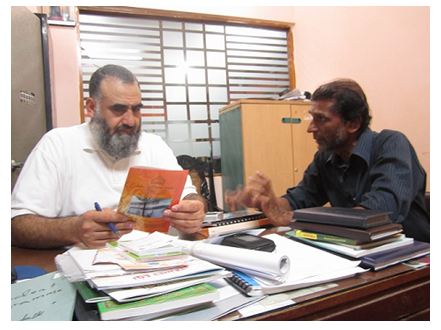 A workshop on "Fund Raising" was organized at CIS which was well attended.
In his PowerPoint presentation Mr. Khaled Salem Al Mohammed explained the purpose of fund-raising and that it should match with the goal and mission of the organization. He briefed about the four main categories of funds that could be collected, namely Zakat & Sadaqah, Specific Contributions, Open Donations and Waqf, and then went on to answer the questions as to when, where, whom, how and why we should collect funds, while sharing with us his own long experience in fund raising with DI, Bahrain. It's worth mentioning that Mr. Khaled has been instrumental and played a major role in successfully increasing the financial resources of DI, since its inception in 1985.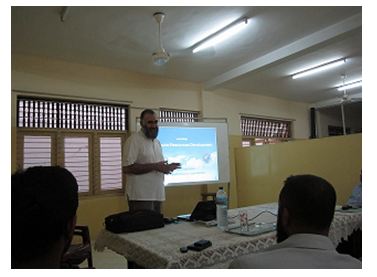 The workshop was followed by a discussion with CIS directorate on the functioning of the Centre. Mr. Khaled provided some valuable advice on how to enhance our work, assuring us that even with little or no resources, we would be able to build up our institution. Mr. Khaled advised us to primarily concentrate on the following:
01. Preparing good quality publicity material to market our cause.
02. Getting together an efficient group of volunteers to work with us.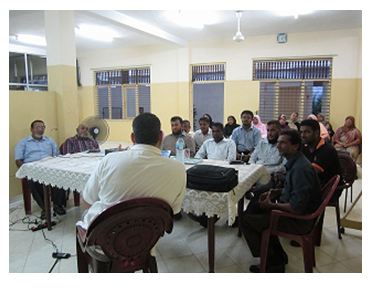 The guest provided us with some material used by DI, and requested us to prepare similar items for our use. He expressed interest in visiting Sri Lanka February, in order to conduct a more comprehensive and practical demonstration on fund raising, for about five days or one week. He also promised to try to sit with us once again on his way back to Bahrain, to collect more information on our activities, that will enable him to work out a suitable strategy for fund raising activities.
Mr. Khaled visited the Children's Home run by the Ladies Wing and also discussed with the sisters about their Da'wah activities.