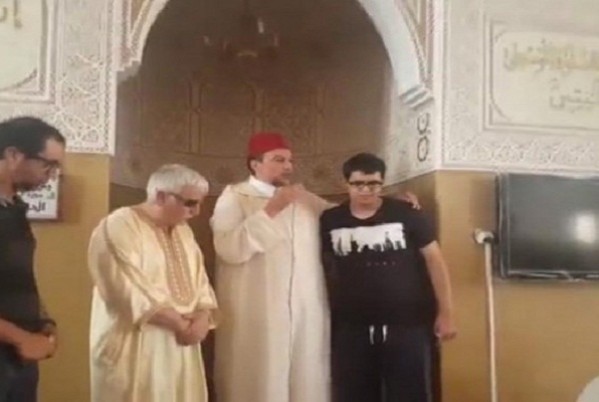 Rabat – The number of foreigners converting to Islam continues to rise in Morocco, as a Spanish family of three announced their conversion on Friday, in El Jadida, 90.56 km (56.27 miles) away from Casablanca.
The father and his son took the Shahada (the Islamic declaration of faith affirming the oneness of God and the acceptance of Muhammad as His Prophet) in the presence of thousands of worshippers in the Nour Mosque, after the noon prayer.
The daughter, on the other hand, was taught the Shahadaby a woman in the women's quarters of the mosque.
In a video posted on YouTube, the father and his son expressed their happiness to convert to Islam and their new brothers and sisters.
The father decided to change his name to Omar while the son chose Idriss as his new name, although Islam does not require new converts to adopt Muslim names.
Every year during summer time, a number of non-Muslim foreigners announce their conversion to Islam, while visiting Morocco.
Thanks to its tradition of openness and tolerance, Morocco has become in recent years one of the main destinations for foreigners seeking to learn and convert to Islam. Every day, foreigners adopt the Islamic faith in different cities of the Kingdom.
The most recent conversion of foreigners to Islam in Morocco was last month, when a French man and a Swiss man converted to Islam in the Koutoubia Mosque of Marrakesh.