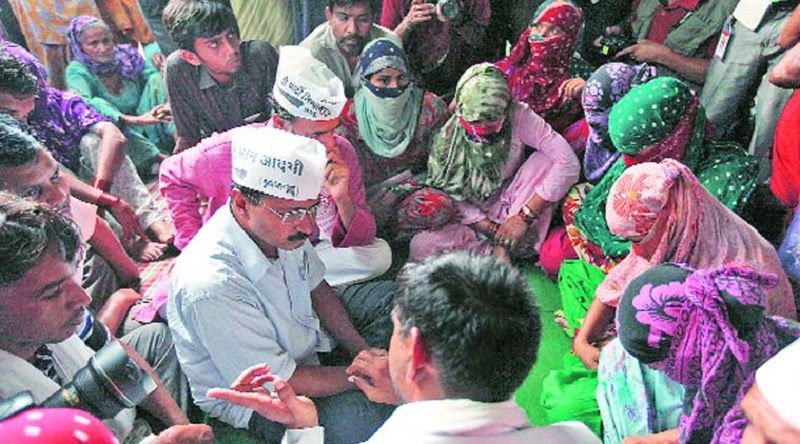 Bhagana  India (IINA) – Seeking refuge in Islam, around 100 Dalit families from the Bhagana village of Hisar district in the north Indian state of Haryana reverted to Islam at Jantar Mantar in New Delhi on Saturday, according to Hindustan Times daily.
Families from Hisar's Bhagana village, who have been protesting at Jantar Mantar for the past two years over alleged atrocities and rapes by the upper-caste Jats, claimed to have converted to Islam at Jantar Mantar on Saturday.
"We don't feel like being part of Hinduism at all. The upper caste people (Jats) in our village have always treated us as if we are not human beings. So what is the point to stay in such a religion?" Bhagana Kand Sangharesh Samiti president Virendrar Bagoriya said.
Bagoriya confirmed that Maulvi Abdul Hanif from nearby Qutab Minar mosque performed the conversion formalities.
"We read kalima and offered namaz," Bagoriya said.
Leaders from the famous Dalit families have complained of continuous discrimination.
For more than three-and-a-half-years the group has cried out at the local authorities, begging for allocation of promised plots pursuant to a state government scheme, and also against the atrocities they allegedly suffered at the hands of upper castes.
Deaf hears have also been turned to them when they asked for 100-yard plots each from Panchayat land outside the village, the village Panchayat has been refusing to do so.
"For years now, we are continuously getting harassed at the hand of "dabangs" in our village. They are depriving us from our land and raping our girls.
The testimony of reversion (Shahadah) was done under the supervision of Maulavis from New Delhi under the monitoring of Dr. Abdul Razzaq, an office-bearer of a New Delhi-based Muslim organization.
"After consulting all families, we had organized this program. Dr. Razzaq had also visited Bhagana to know the mindset of villagers. Hence we fixed August 8 as the day for the conversion ceremony," said Bagoria.