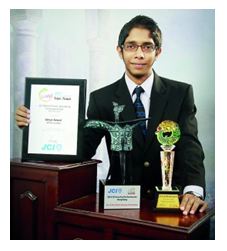 "Never throughout history has a man who lived a life of ease left a name worth remembering" – Theodore Roosevelt. It is not so with nineteen year old Umar Azwer – an Amalian and an active member of Junior Chamber International ( Colombo Chapter ). History will record Umar Aswer as the first Sri Lankan to win the prestigious JCI World Public Speaking Championship held in Taipei, Taiwan.
The event was held in three rounds, firstly at a national level where Umar was selected to represent Sri Lanka. The next round of regional competitions held in Hong Kong in June 2012 where he was awarded the best speaker for the Asia Pacific (ASPAC) regions among the winners from 11 other countries including Australia, India, Singapore Philippines, Bangladesh, Mongolia, and South Korea. Finally, the winners from all four regions – Europe, Africa-Middle East, Asia Pacific and the Americas – pitted against each other in a stiff competition in Taipei last month.
JCI a global organization dedicated to empower young active citizens to create positive change in their communities. JCI members offer targeted, sustainable solutions that achieve results. JCI international arm, with nearly 200,000 young active citizen and over five million alumni, including several world leaders. JCI chapters are spread over more than 5,000 local communities and over 100 countries around the world.
JCI World Public Speaking Championship attracted several participants from 60 countries between the ages of 18 to 40, some of whom were professional speakers.
" It is a great honour for Sri Lanka to have produced an International winner. The task by no means is easy competing with 60 countries participating where some of the competitors were professionals speakers " says Radhika De Silva, National President of JCI, Sri Lanka.
Umar began his public speaking journey at the age of six when he first won the junior oratory competition as the youngest speaker at his school Amal International, Colombo. He says he owes much of his success to his family and his Alma Mater where he was Deputy Head Prefect during the 2011/ 2012.
Umar further remarked ""Throughout my schooling days, I have always had the opportunity to enhance my talent as a public speaker, thanks to the annual competitions that are held for students from Grade 1 through to the Advanced Level. The platform for my achievements was laid by the teachers of Amal, starting with the primary section right through until I completed my Advanced Level examination. Extra curricular activities of all forms greatly encouraged at my Alma Mater and I strongly believe that this contributed not only towards developing my public speaking skills but all the soft skills that I have been fortunate to acquire."
"I was fortunate enough to have parents who believed in a balanced education, not just book education, an aunt who is also my coach, and a school which provided me with the platform to reach my potential," says Umar.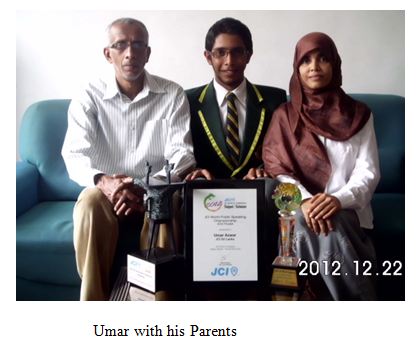 Drawing upon his own experiences in having lived his life in a country torn by war, followed by the post-war reconciliation attempts among communities in Sri Lanka, Umar made a remarkable speech on "Cultural Diversity is strength rather than a weakness." "I was fortunate that the topic was one I could be passionate about, because I believe in passion. I believe that if you do anything with an iota of passion, you are bound to succeed," says Umar.
The mild mannered, soft spoken Umar oozing with whim and vigour remarked the victory "a great achievement" . " it is an achievement not only for me , for my alma mater – Amal International School, and JCI movement as well. Above all, it is an achievement and a recognition for Sri Lanka. I strongly believe that all of us need to be ambassadors of our country in what ever way possible and I hope that I have done that" says Umar.
Welcoming Umar at the Bandaranaike International Airport were the Principal, Vice Principal, members of the staff, students of Amal and the Chairman of Amal International School Mr Khalil ul Rahman ( JCI). Overjoyed Chairman Mr Khalil ul Rahman greeted Umar " here comes one of the future world President of JCI"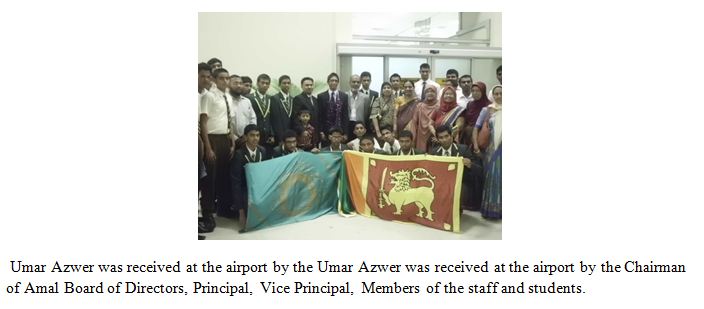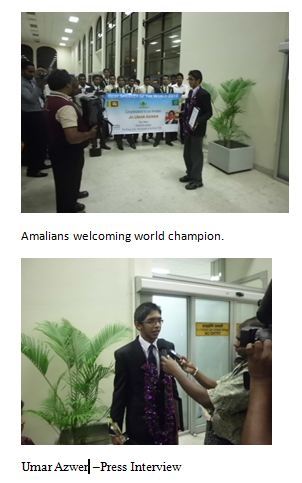 Amal principal Mr. Mohamed Thamby who assumed duties a few months ago said "Umar is a well disciplined, and sincere student, often dedicated to any task assigned, with a strong faith in excellence. "
Vice Principal senior most member of Amal staff, Mrs. Mihlar in the year 1999 I saw a lovely flower bud entering Amal, it makes me doubly happy to see that little bud blooming into the most beautiful flower.
ThinkQuest International Competition 2011, organized by the Oracle Education Foundation, USA where 7,603 teams participated from countries like China, Great Britain, Greece, India, Indonesia, Maldives, Moldova, Pakistan, Puerto Rico, Romania, Singapore, South Africa, Sri Lanka, Taiwan and the United States. The team of six including Umar Azwer, AzeezAbubakr, Jazeel Azhar, Rehman Abubakr, Fazal Thahir and Aakil Mansoor were placed second from 30,000 students worldwide for their entry 'End Child Labour', in the 19 and under Digital Media event. Their website can be viewed at www.nchildlabour.info.
Currently a first year Business Management degree student at BMS, Wellawatte, Colombo 6.