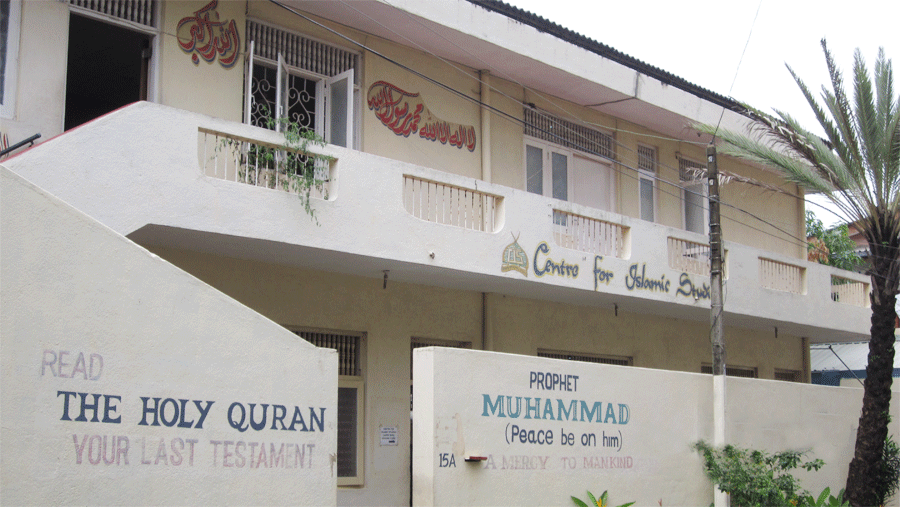 The Centre for Islamic Studies, a pioneering organization in the field of conveying the message of Islam to humanity in Sri Lanka, well known by its acronym (CIS) was established in 1985. Incorporated by an Act of Parliament by the Government of Sri Lanka in 1991, it enjoys a unique place among other Islamic organizations to-day. Not only is it the premier Islamic organization engaged in Da'wah activity in Sri Lanka, but still remains the largest such organization that spreads the message of Islam. Within a short spell of time CIS has set up two villages, one at Kahatowita and the other at Bogawantalawa. 
The CIS with its headquarters at the heart of Colombo, 15A  Rohini Road, Wellawatte has since its inception spread its wings far and wide, reaching out to other communities, explaining the beauty of Islam in a most meaningful way. Its multi-faceted programme includes lectures by renowned Islamic thinkers, scholars and speakers from all corners of the world, distribution of free books, booklets, handouts and pamphlets on Islam, conducting in- house training programs, workshops on leadership, personality development and motivational courses  for youth, classes on principles of Islam, Ahadith,  Islamic Aqeeda and Adab, recital of holy Qur'an for brothers and sisters. Support services such as self employment and training in cottage industries are among the services offered to the less fortunate sections of the newly found brothers and sisters.   A well equipped bookshop, library and audio-visual unit provide a continued flow of information on Islam to all who patronize the Centre.
Foreign Lecturers.
Of the notable activities of the CIS, the most spectacular have been the sponsorship of lectures by world renowned Islamic Scholars. The year 1985 witnessed the arrival of the first such scholar Br. Yusuf Islam, followed by Sheikh Ahamed Deedat who took the city of Colombo by storm, and whose voice yet resonates through the streets of Colombo and the rest of the Island through the audio tapes of his lectures that were produced subsequently as well as in the hearts and minds of those who had the fortune of listening to him in action. This magnificent lead was followed by professor Jamal Badawi ( Canada) , Khalid Al Mansur ( USA), Ahmed Von Denfer (Germany), Garry Miller( Canada), ,Zakir Naik (India), ,Yvone Ridley ( UK) ,Yusuf Estes( USA) ,Jeffry Lang (USA), Ayesha Lemu (Nigeria), ,Nurdin Lemu ( Nigeria),  and Idris Tawfiq (Egypt). These lectures programs were well received by the local audiences.
Housing Schemes.
A housing scheme at Thihariya consists of 40 families is managed and maintained  CIS. The housing scheme has its own Masjid and resident Maulavi. Daily Qur'an classes for children and weekly classes for adults are conducted under the supervision of CIS.
Amal International School
Amal International School celebrated its 20th anniversary in 2011 is a Mega Project of CIS – a glittering star over the CIS sky. Being the pioneer in the field of National Education in the English medium, Amal has today grown to be a fully fledged school, with Islam as a base and classes from Montessori to G.C.E. Advance Level and with all modern facilities, state of the art computer Laboratory and Science Laboratory.
Amalians have carved a niche for themselves both in the country and overseas. Many have taken to academic pursuits, following different disciplines in various Universities throughout the world including in Sri Lanka. One is already a doctor and a Hafiz al Qur'an who has assumed duties in a Sri Lankan Hospital.  Many Amalians have found gainful employment in some of the best corporate sector establishments both in Sri Lanka and overseas.
MOSQUE TOURS
"Mosque Tours" Is  a unique interfaith initiative where people of other faiths are invited to mosques to learn about Islam. The project undertaken by the Centre for Islamic Studies Harmony Center (CIS) in association with the trustees of local mosques has since its inception in 2014 seen over sixteen mosques in all parts of the country open its doors to people of other faiths. It has had over 12,000 visitors of other faiths ever since it commenced its activities. The concept has been quite revolutionary since it has also been the only occasion where any religious place of worship has been opened to the public by open invitation.
Mosque tours are basically cultural tours aimed at giving those of other faiths a better understanding of the Islamic faith and Muslims in general. Generally visitors of other faiths are keen to visit mosques and experience its rich architecture besides curiosity about what's going on in mosques due to media publicity, making it all the more necessary for mosques to be seen as welcoming to those of other faiths.
The mosque is also well placed to explain Islamic faith and traditions since it is the centre of Muslim worship to which pious Muslims resort to five times a day to offer their prayers. Furthermore, every aspect of the mosque from its minarets to its absence of idols and prayer rows marked in its rich and ornate carpets lend itself well to explain the fundamentals of Islam such as its uncompromising Unitarianism and spiritual life expressed in daily cycles of prayer.
Besides a tour of the mosque and Q & A, participants are also given an opportunity to enjoy and experience the traditional culture and hospitality of the community as they are invariably served traditional Muslim foods, given free calligraphy of their names in beautiful Arabic script and gift packs of literature clearing misconceptions of the Islamic faith to take home.
Another unique feature of the program is its poster walkthrough which involves large colourful posters in Sinhala, Tamil and English languages being placed side by side and forming a walkthrough which visitors are directed to shortly after the mosque tour proper. The posters which are fixed into stands are replete with colourful imagery expressing the beauty of Islamic culture all over the world together with fairly detailed text that covers everything from Shariah Law and Conditions of its Application to Religious Tolerance, Co-existence, Human Rights, Women's Rights and Animal Rights among other topics about which little is known among people of other faiths due to prevailing misconceptions.
HearTalk for Students and Youth.
 'HeartTalk' ,   a especially tailor made programme for Youth and Students from all schools within the city limits and to those from outside is conducted by the Student Wing of CIS. The course conductor is non other Sheikh Akram Nooramith. Sheikh Akram Nooramith is one of the prominent Islamic scholars in Sri Lanka. His captivating manner of presentation has kept many spellbound. Currently the Sheikh is conducting a series of lectures at Wekande Mosuqe and "Understanding Quran" for Professionals.
CIS – REED Project
"If you give a man a fish you feed him for a day. If you teach him  how to  fish you feed him for a lifetime." is a well-known Chinese proverb. CISREED project has been well rooted in this ideology combined with fundamental principles of Islamic values to support the needy. Once prophet Mohamed said" The hand that gives is much better than the hand that receives".  Helping the poor is a fundamental duty of any Muslim and Islamic organizations. But CIS was deeply concerned about the fact that helping those who are in need should not create dependents. The idea of CISREED project was brainstormed long ago and initiated in late 2010 with the intension of methodical strengthening the financial condition of reverts. REED was the first ever program in the country to financially assist reverts for long term sustainability by applying modern Islamic Microfinance concepts.
CIS- REED project mainly aimed at developing entrepreneurial skills of individuals  and assisting them to prepare simple business plan with marketing strategies and financial planning. The four day entrepreneurship program uses adult learning techniques to gradually develop an interest for learning. Participants at the end of the session prepare their own business plan with estimated sales and profits. This also gives them an idea of cash flow and how they can re-invest their money, how much to spend and how much to save. 
CIS – REED's approach is holistic, thus giving out money to the needy is not the purpose of the project, but which is a part of it. Continuous monitoring, provision of emotional support, business advisory service and creating a sense of community are some of the other objectives of the project among others. A team of brothers with passion to support the needy is always behind the small groups of reverts to back them until a visible progress is achieved.   
Youth Wing – CIS.
The CIS Youth Wing was launched on  5th August 2006 with the participants of TTC 1.  It was a resolution made with the culmination of the Train the Trainer Course 1 conducted by Sheikh Nuruddeen Lemu from the Education Trust, Nigeria and Sheikh Shah Kirit of Malaysia held at Sri Lanka Foundation Institute.
It has since then  repeated the TTC Level 1  twice and  level 2.  Numerous other conference and workshops were held namely the Approach to the Study of the Quran by Shk Ahmad von Denffer, Germany,  Imam Barakathullah,  Imam of the one of UK Masjids.
" Sharing  Ramadhan" was the major event for the year 2011. –Ifthars  organised by the CIS Youth Wing – Outreach programme for Non Muslims students and academics were conducted at the following Universities with the collaboration of the All University Muslim Students' Association.The  Institute of Indigenous Medicine, University of Colombo, School of Social Work, University of Sri Jayawardenapura, University of Peradeniya, and the University of Moratuwa  was organized by the  Postgraduates students reading for the Masters Degree in Civil Engineering.
The Centre for Islamic Studies- Infant's Home
After 5 years of success, with the help of Almighty Allah, the centre acknowledged the well-deserved need and established a home for orphans and destitute children.
The inauguration of the current ladies wing, in the year 2003, resulted in the initialization of their main welfare project three years later- the re-establishment of the CIS infant's home. It is this home that continues to flourish today, thanks to the grace and blessings of Allah Subahanawata'ala, with the vision of providing basic needs, from a sound education to a fulfilling job and satisfying marriage- so that these amazing children could have a stable future. The orphanage started with only 2 children, but now Masha Allah, it is home to many delightful boys and girls, who are in separate homes, in accordance with Islamic ruling. The children, taken in from under 5 years of age are well looked after and are not left wanting, thanks to the dedicated CIS Infants Home Committee Members and staff.  These children experience a balanced life, their educational needs fulfilled, while also engaging in extra-curricular activities such as sports and elocution. The children are occasionally taken on fun outings as well.
1. CIS
2. orphanage
3. Youth Wing
4. Student Wing
5. Book shop.
6. Kahatowita.
7. Micro Finance.
8. ATMT.
9. Amal.
10. Bogawantalawa.
11. Ladies wing.